The EMI64k, the new automation software suite of GAUSS INSTRUMENTS, allows to embed your TDEMI receiver in a fully automated test environment. A full automation of EMI testing according to all commercial and military standards is available with this software suite. Using the capabilities of the TDEMI® X with a gapless processing and full quasi peak detection the EMI64k is the only software that provides a full automation even under conditions of sporadic interferences or drifting emissions. This unique technology avoids manual searching of peaks and improves the overall test quality. In addition the complete radiation pattern is measured at all frequencies with Quasi-peak.
The EMI64k provides traditional measurement procedures like pre-scanning and final maximization at individual frequencies as well as full automated EMI testing using a huge real-time bandwidth of 645 MHz with Quasi-peak and Average detector to get the spectrum at all angular positions and heights. The method of data reduction and fully automated maximization using the real-time spectrogram mode can be combined for extremely fast and accurate testing.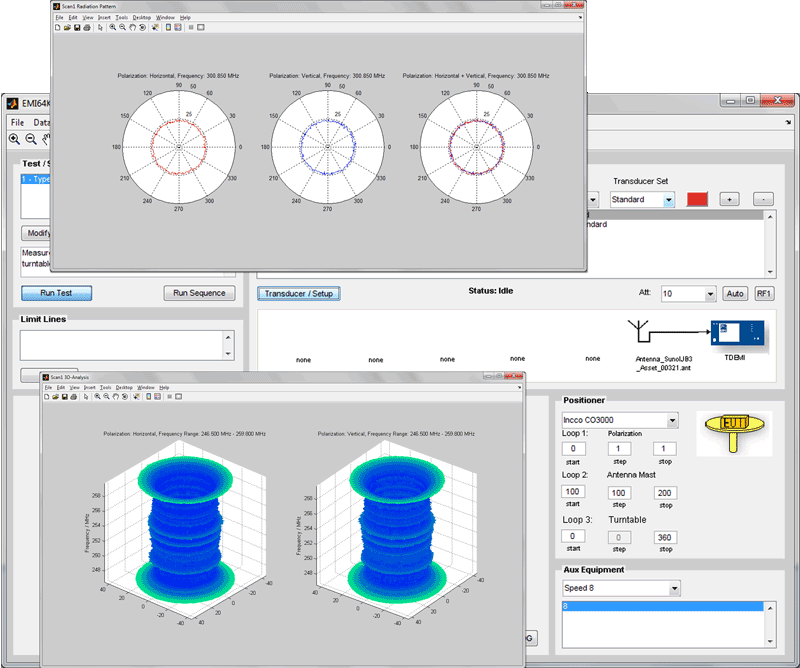 The EMI64k software supports conducted emissions, measurement of disturbance power, radiated emission measurements in a full anechoic room or at an open area test site as well as in a semi anechoic chamber. For all these typical test setups the EMI testing is fully automated. Also Measurements with your GTEM cell, which is a very effective approach to test small devices, are possible with the EMI64k software to speed up the measurement using the Quasi-peak detector for a scan with a scan time between 3 seconds (TDEMI® X) and 64 seconds (TDEMI® M). The measurement is carried out at all 3 axis and the calculation of an OATS equivalent result is performed.
The EMI64k automation software suite is available for all TDEMI® product families and can be hosted on your TDEMI® System or from a separate work station via an external PC or Laptop. The EMI64k is a bundle of packages that can be configured according to the customer requirements. The great advantage is the following: You only pay for the features that you need and you can upgrade anytime later with additional features that you need for future tests. Whether for conducted or radiated emission measurements, for your GTEM cell measurements, your measurements with your SLIDE or a combination of several modules, we provide an optimum and cost effective software solution tailored to your requirements.